The History of Discovery
Looking ahead
Magnetic Tape Reels
Tape recorder by the Texas company RadioShack.
Technological innovations such as composing for tapes shaped the music of the post-war era. In the early 1960s, Cerha also experimented with such methods, including for the orchestral cycle Spiegel.
Image source: zacks/Pixabay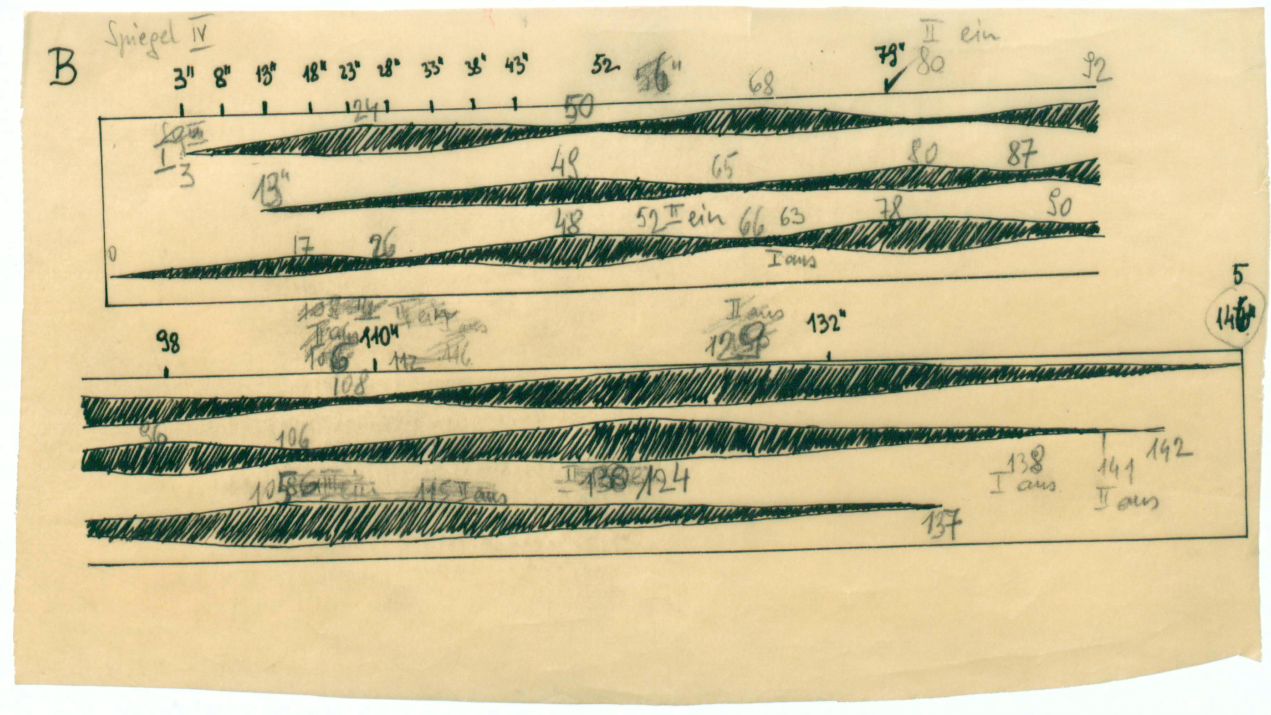 Friedrich Cerha, Tape sketch of Spiegel IV, 1960's
In February 1959, the Mouvements were written, three studies of states with very contradictory soundscape structures for chamber orchestra, in which, for the first time, I not only dispensed with melody, harmony, and rhythm in the traditional sense, but also with serial orders—of course always drawing upon my experiences from this way of thinking. There was something tremendously exciting about penetrating new worlds of sound, completely free of traditional formulations, and being able to dispose of them; it was a time of feverish design, conception, and conquest.
Friedrich Cerha
Schriften: ein Netzwerk, Vienna 2001, p. 225
The Second World War left a trail of ruin and devastation. But its end also meant opportunity—the opportunity to wipe the slate clean behind an era of retrospective. This was especially true for music. Under National Socialism, music was misused for propaganda purposes, its impact placed in service of political manipulation. For very good reason, young composers now felt an urgent need to cast off the weight of the past and all its mawkishness. Boldly constructed and uncompromising works revealed the esprit of a music of the future. In post-war Austria, it took Cerha years to become acquainted with the music banned during the war. In the mid-1950s, he finally travelled with a group of Austrian composers to the epicentre of the avant-garde, to Hessian Darmstadt, to attend summer courses for new music. The will for renewal that prevailed there impressed him noticeably. And thus he was drawn into the wake of these discoveries. Relazioni fragili can be highlighted as one of his first works to be influenced by Darmstadt. It is closely associated with the strict structural aesthetics of the time, yet also reveals its own free-spirited way of thinking. At the end of the Darmstadt era one finds Enjambements, an exploration of compositional scope. Completely independent from fashionable developments, Cerha became one of the first to discover soundscape compositions, culminating in his monumental orchestral cycle Spiegel.