The Music of Play
Mediterranean, light
Numbers, ars combinatoria
Soap Bubble Structures
Light, transparent, and iridescent—some of Cerha's music has the whimsical effect of soap bubbles. The invention of sounds "on the fly" stands in contrast to the labours of his other compositions.
Bildquelle: Pixabay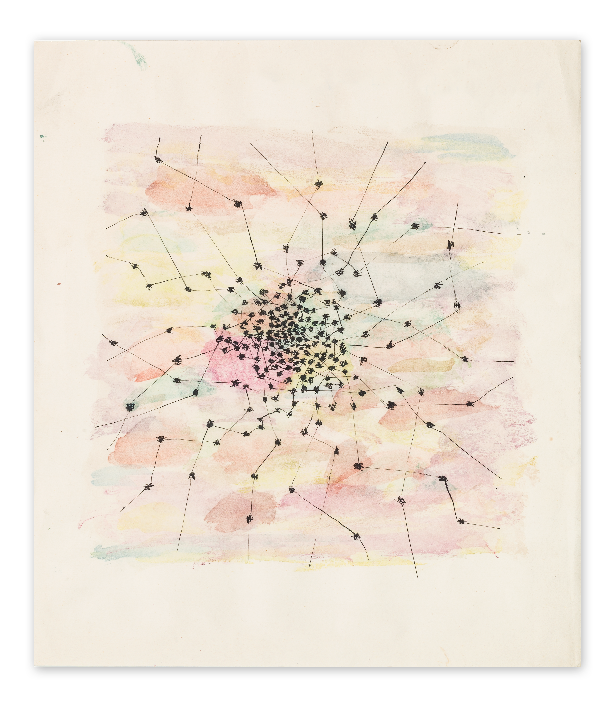 Friedrich Cerha, Untitled, 2001,
ink and watercolour on paper, 29.5 x 26 cm
Since the '50s of the last century, new music has – with a few exceptions – lost the joy in making music, in the movement, the experience of wholeheartedly diving into play that I have always greatly valued in my musical encounters.
Following sensitive orchestral pieces with subtle tonality, I felt […] a pronounced longing for something rougher, more tangible music that rolled up its sleeves, so to speak, something suited to satisfying the desire to play and to move.
Friedrich Cerha
Commentary on the pieces Bagatelle für Orchester and Piccola commedia. See Joachim Diedrichs, Friedrich Cerha. Werkeinführungen, Quellen, Dokumente, Vienna 2018, pp. 129, 137
E and U—two letters that, in German, have artificially divided music into two separate categories since the early twentieth century: E for
ernst
, or serious music, and U for
Unterhaltung
, or music for entertainment. This seems quite passé today, conveying a subtle disdain for all sounds not clothed in the dress of serious art, choosing instead to be playful, enjoyable, and have a twinkle in the eye. Neither does the "muse of lightness" have an easy time in the field of new music. Composers dedicated to culinary entertainment, such as Mauricio Kagel or Cerha's friend Kurt Schwertsik, are in any case outnumbered.
Cerha's gravitation towards lightness and relaxation begins with him becoming acquainted with the music of two Frenchmen in the 1950s—by no means a coincidental reorientation, as French music has always been said to convey a more casual attitude towards life than that of German "poet and thinker" composers. In any case, Cerha finds "nothing of the gravity and heaviness of Schönberg nor the severity of Hauer" in Darius Milhaud's music. Schriften: ein Netzwerk, Vienna 2001, p. 33 And Erik Satie fascinates him as well, with his "clear and graphical shapes".Schriften: ein Netzwerk, Vienna 2001, p. 33 Encouraged by his French colleagues, Cerha now often finds his way to an equally light tone.
His Klavierstücke für Kinder oder solche, die es werden wollen are both educational and humorous, while the Konzert für Violine, Violoncello und Orchester plays with Satie's bizarre soundscape as if in a circus. A mild summer evening can be heard in Serenade, sometimes mysterious, sometimes greatly exuberant.