The Inside of the Outsider
Collective and individual
The Outside of the Insider
Jacques Callot, Dwarf with Violin
from: "Varie Figure Gobbi", 21 etchings, 1616.
According to a book by Bernd Schucher, French artist Jacques Callot contributed to the "invention of the individual", despite the limitations imposed by the Thirty Years War. Dwarf with Violin is one of several idiosyncratic burlesque portraits of artists.
Image source: Wikimedia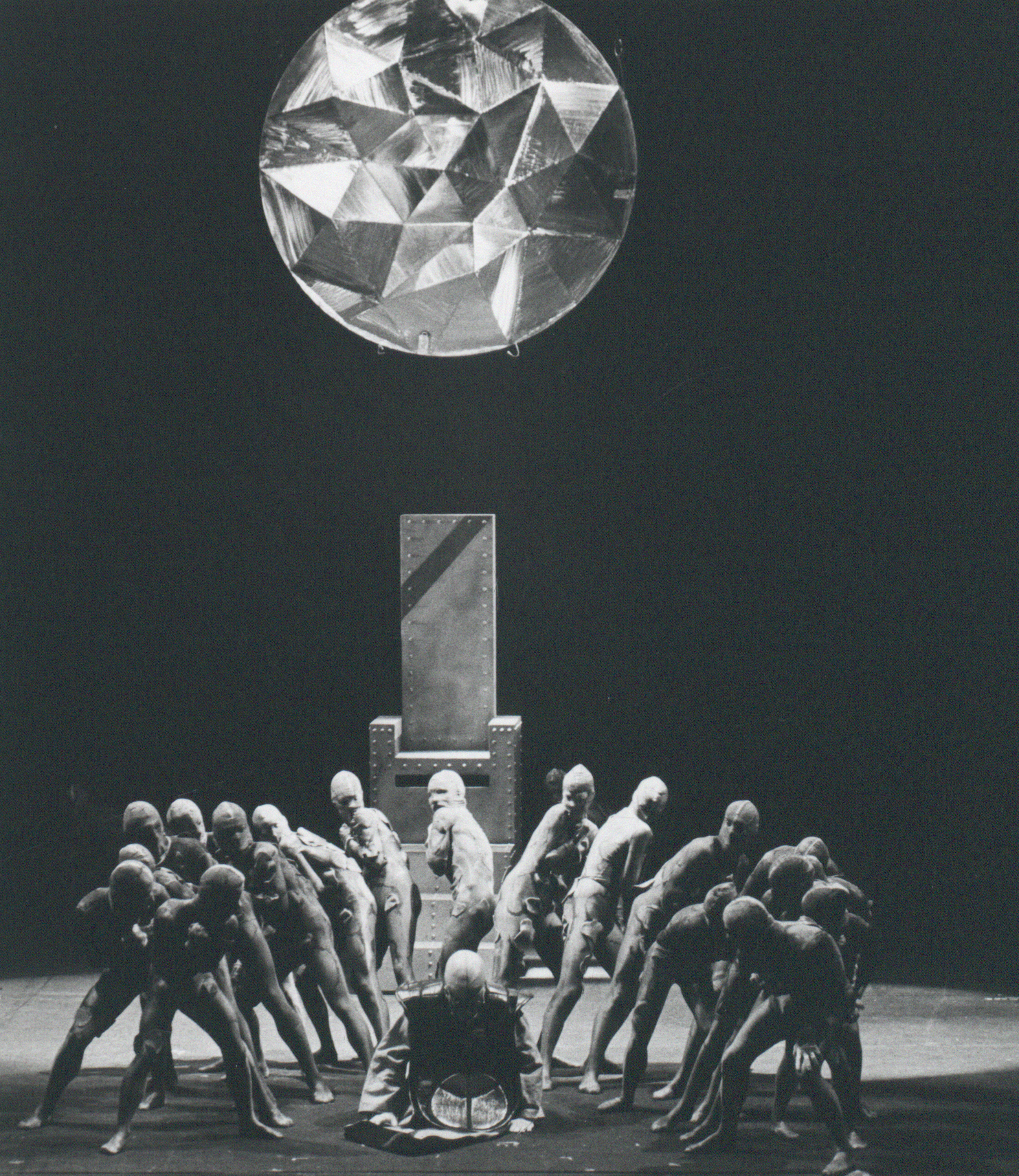 Stage design of Netzwerk, produced by the Theater an der Wien, 1981
I was a soldier in World War II. I deserted twice and saw myself as one who had been rejected by society. And that continued after the war to a certain degree. Because, in ultra-conservative Vienna, I stood up for the newest music at the time, […] I was insulted and bad-mouthed from all sides and was thus pushed back into the role of an outsider.
Friedrich Cerha
Interview with Martin Grubinger, KlickKlack (BR), 14 June 2012
"You are nothing, your people are everything," wrote politician Heinrich Deist in 1924.

Heinrich Deist, "Politischer Rundbrief des Hofgeismarkreises", 1924
It became the propaganda motto for National Socialism only a short time later. Extreme subordination of the individual, complete self-surrender in favour of community interest—iat their height, these ideologies incensed young Friedrich Cerha to no end.See Interview with Martin Grubinger, KlickKlack (BR), 14 June 2012
An avowed individualist, he found it impossible to reconcile his approach to life with the constraints of a society that stifled freedom.
The tense relationship between just this kind of community and the individual facing it preoccupied Cerha his entire life. He himself artfully alternated between adapting to the cultural scene and participating in artistic currents on the one hand, while taking a posture of resistance and refusing to be categorised on the other.
In his oeuvre, themes of the individual and the collective often run along existential paths. In the one corner, one finds the music to a text by Thomas Bernhard, bringing charges against the state (
Requiem für Hollensteiner
). Elsewhere, for example in his operas, characters who have been cast out are drawn into social conflict.
Baal
is the archaic main character of this dynamic in Cerha's oeuvre, never finding his place in the community. The same applies to the
Riesen vom Steinfeld
, who stands out from the conforming masses and whose fate is likewise tragic.